Chemical Name — BETAMETHASONE ACETATE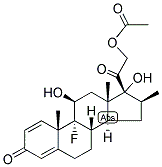 BETAMETHASONE ACETATE, MICRONIZED, USP is a strong glucocorticoid steroid and has anti-inflammatory and immunosuppressive properties. It has the added advantage of not causing water retention, unlike other potent drugs of this type. This item is formulated as a topical cream, ointment, lotion, gel or even foam. It is listed on the World Health Organization's list of essential medicines.
| | |
| --- | --- |
| IUPAC Name | [2-[(8S,9R,10S,11S,13S,14S,16R,17R)-9-fluoro-11,17-dihydroxy-10,13,16-trimethyl-3-oxo-6,7,8,11,12,14,15,16-octahydrocyclopenta[a]phenanthren-17-yl]-2-oxoethyl] acetate |
| CAS Number | 987-24-6 |
| Molecular Formula | C24H31FO6 |
| Synonyms | Betamethasone 21-ace;BETAMETHASONE ACETATE;BETAMETHASONE 21-ACETATE;Betamethasone21-acetatemicro;Betamethasone Acetate (500 mg);Betamethasone acetate BP/USP/EP;BETAMETHASONEACETATE,MICRONIZED,USP;BETAMETHASONE ACETATE MM(CRM STANDARD);BETAMETHASONE ACETATE USP(CRM STANDARD);BETAMETHASONE ACETATE EPB(CRM STANDARD) |
| Application | CORTICOSTEROID  |
Note — 
API/Substances covered by patents are not offered to the countries where valid Patent Law is in force. However, the final responsibility lies with the customer.