Chemical Name — AMLODIPINE BESYLATE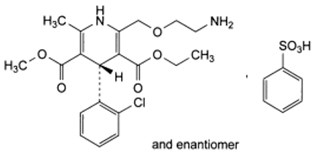 AmlodipineBesylate is a long-acting calcium channel blockerdihydropyridine (DHP) class] used as an antihypertensive and in the treatment of angina pectoris. Like other calcium channel blockers, amlodipine acts by relaxing the smooth muscle in the arterial wall, decreasing total peripheral resistance and hence reducing blood pressure; in angina, it increases blood flow to the heart muscle (although DHP-class calcium channel blockers are more selective for arteries than myocardium, as the cardiac calcium channels are not of the dihydropyridine-type).
| | |
| --- | --- |
| IUPAC Name | 3-Ethyl 5-methyl (4RS)-2-[(2-aminoethoxy)methyl]-4-(2-chlorophenyl)-6-methyl-1,4- dihydropyridine-3,5-dicarboxylate benzenesulphonate. |
| CAS Number | 111470-99-6 |
| Molecular Formula | C20H25ClN2O5,C6H6O3S |
| Synonyms | 3-ethoxycarbonyl-5-methoxycarbonyl-6-methyl-1,4-dihydropyridine benzenesulfonate |
| Application | Antihypertensive  |
Note — 
API/Substances covered by patents are not offered to the countries where valid Patent Law is in force. However, the final responsibility lies with the customer.